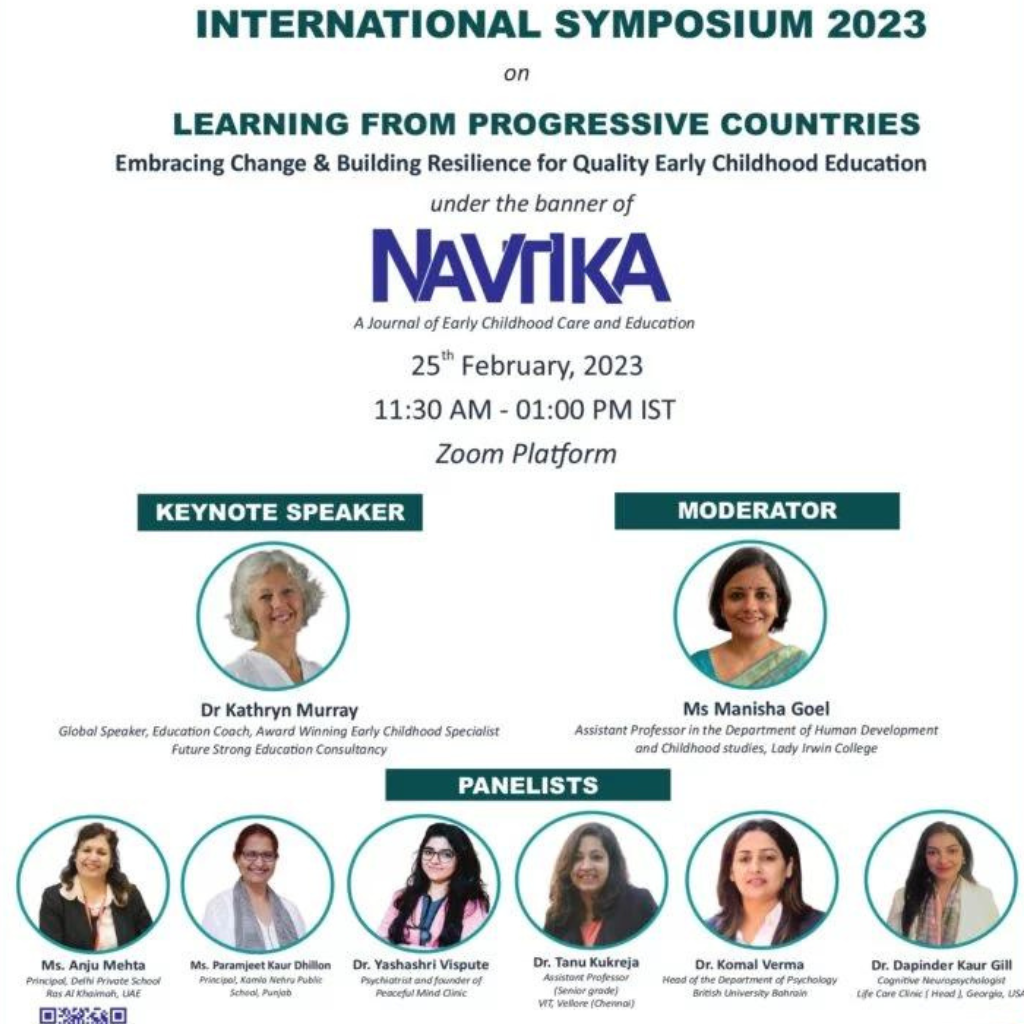 Salwan Education Trust with great pride organised Navtika International Symposium on Learning from progressive countries held on 25th February 2023. The theme of the symposium provided much required guidance to understand the changing paradigms in the field of education and the evolution of a new education system to nurture global citizens. Our Editor-in-chief Dr Indu Khetarpal gave the inaugural address along with the launch of the latest edition of Navtika. The Key note speaker, Dr. Kathryn Murray and the Moderator Ms Manisha Goel set the tone of the event by enlightening the listeners with her views on the importance of ECCE. The attendees also got the opportunity to gather knowledge from the group of panelists Ms Anju Mehta, Ms Paramjeet Kaur Dhillon, Dr Yashashri Vispute, Dr Tannu Kukreja, Dr Komal Verma and Dr Dapinder Kaur Gill who were experts in their respective fields and had a vast pool of ideas for Early Childhood Educators.
The Symposium witnessed participation of over 500 attendees on Zoom and over 1000 viewers on YouTube. With tremendous planning and effort, we could culminate the Symposium on an enriched note and added another feather in our cap with our heads held high.
To understand and give a broader perspective to the Panchakosha, the ancient concept of Education introduced by NCF 2022 and to make this an integral part of Early childhood education, the Salwan Group of Schools under the aegis of Salwan Education Trust, New Delhi organized the Second Edition of Navtika National Symposium on 'Panchakosha: Learning to Relearn and discover the essence of Contemporary Education' under the banner of NAVTIKA in virtual mode. The speakers for this enriching session were (Prof) Dr Venita Kaul, Dr. Seema Negi, Ms. Seema Tuli, Ms. Amrit Nagpal, Dr. Shipra Suneja, Dr. Vasavvi Acharjya and Ms. Devika Nadig. Pancha Koshas, originating from ancient Indian philosophy, refers to the five layers or sheaths that comprise an individual's existence, emphasizing the holistic nature of human beings.
 Vedanta investigates the human uniqueness into five layers/sheaths koshas or levels. It uncovers the fundamental components that give the universe and the microcosm system. It shows us the instrument of the body, brain, and soul, from the gross components that make up the actual body to the more inconspicuous parts of the psyche and awareness. It distinguishes every component, shows us its capability, and shows us the relationship of the multitude of components with one another. All the enthusiastic participants from all across the schools including educators, principals, and parents participated in the symposium. The interactive session on the Pancha Koshas provided a transformative journey into the intricacies of human existence, offering participants a new lens through which to view their children and their world, and how integrating the wisdom of the Pancha Koshas into their children's lives can bring forth their holistic progress.