Mam, I wud like to congratulate to all the teachers and staff who made this event a grand success. The kids performed gracefully and confidently. The whole experience was overwhelming. Hats off to the teachers, principal, management for putting hardwork and making a show a great success. Special Thankx to you for giving kids so much love and warmth Bad weather created a obstacle but you people have proved that..."There's no such thing as good weather, or bad weather. There's just weather and your attitude towards it." Once again Congratulations to all of you!!
We are really happy to see our daughter performing with full confidence in "Annual day function" It was a wellcoordinated event full of awestruck performances by kids. We can keenly observe the efforts of the school as well as the class teacher to give every student the opportunity to participate. We just hope these extended efforts will also continue in the future. Truly appreciable & laudable.
AANYA SINGHNURSERY -A
The teachers in SMS have quantity of qualities that has helped my child in learning during this scenario. We are grateful to you all for the techniques, the activities; the planner and teaching method you use are fabulous. My child has shown drastic improvement in academic, speaking skills and confidence level. Heartiest thank you to team SMS.
We would like to thank you to all the teachers of class Nur B for all the efforts you are putting in to nurture my child. We have noticed your endless dedication and patience you are showing to get the best out of the kids. Please keep the momentum going!!
I can see online teaching equally effective due to the extra efforts teacher's are putting in to teach students and make them understand each and every concept in detail in ways which makes it easier for students to learn and understand it. Teacher's not only work on teaching main course but also work on the other behavioral skills and extracurricular activities that help in overall growth of students.
A Splash of Sunshine: Orange Color Day Celebration at Salwan…
---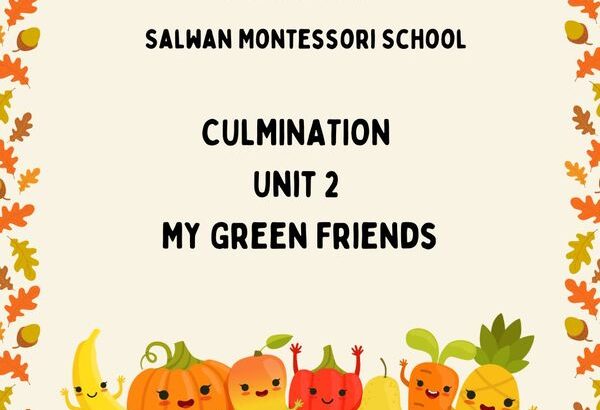 Culmination activities are a perfect medium to showcase the knowledge…
---
The Millet Recipe Competition at Salwan Montessori School was a…
---
Founded in 1999, Salwan Montessori School, Gurgaon is an English medium coeducational preschool.