Assessment is the process of gathering and discussing information from multiple and diverse sources in order to develop a deep understanding of what students know, understand and can do with their knowledge as a result of their educational experiences. The process culminates when assessment results are used to improve subsequent learning. It is a multifaceted skill. Research demonstrates that feedback is most effective when it offers specific information in a timely and constructive manner.
The curriculum and assessment guidelines are designed to observe the four interrelated domains: physical and motor, language, cognitive, social and emotional. Learning is assessed over a period of time and in context. A system of regular ongoing assessments helps us achieve this.
Welcome to the Salwan Montessori Programme!
We at Salwan nurture our students as strong, individualistic, and unique beings ready to face the challenges posed by the modern world. Education at Salwan is about possibilities. To achieve such outcomes, it is important that the learning programme facilitates the discovery of a child's innate talents and generates an excitement for learning new things. Every child possesses a deep curiosity and potential and it is important that through their learning journey this individualism is nurtured and groomed.  Our educational approach is a perfect balance of pedagogies and methodologies that allow the child to reflect, solve, create, grow and most importantly, think.
The Curriculum (LEAP CURRICULUM)
Our curriculum offers an optimal balance of content knowledge, skill application and attitude building. We are mindful of children being allowed to develop at their own pace, and our curricula enables children to direct their own learning. Age appropriate, psychologically mapped and suitable pedagogical tangibles are used to groom free thinking, responsible learners who are equipped with 21st century skills. The focus is not merely on loading information into young impressionable minds but equipping them to utilize this knowledge. This holistic development will groom them to create a sustainable world and become smart citizens. Our Educational Approach at a glance
STUDENT GROUP
LEVEL
CLASS
PEDAGOGIC APPROACH
FOCUS ON DEVELOPMENT SKILLS
Continuous- Interventional mentoring and self-directed learning
Little Salwanian
Foundational
Nursery-Kindergarten
Play way

Physical Development
Language Development
Cognitive Development
Socio-Emotional Development
Aesthetic Development
A Splash of Sunshine: Orange Color Day Celebration at Salwan…
---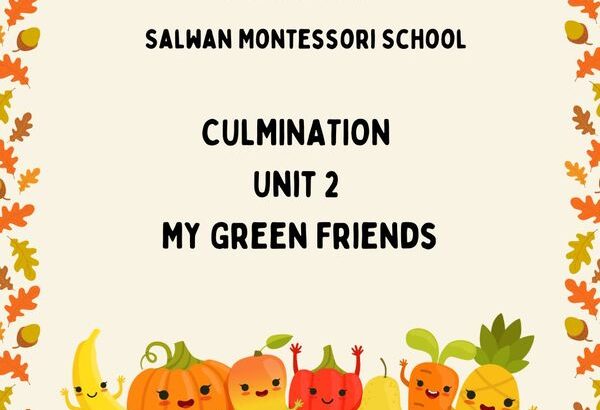 Culmination activities are a perfect medium to showcase the knowledge…
---
The Millet Recipe Competition at Salwan Montessori School was a…
---
Founded in 1999, Salwan Montessori School, Gurgaon is an English medium coeducational preschool.