We at SMS, dedicated to providing an elite infrastructure to train and nurture tomorrow's leaders, equipping them with the capabilities that will come in handy for a brighter future.
Spread across a sprawling 1000 square meters, our campus has been meticulously designed with utmost professional care to cater to the specific needs of young children. Our well-lit classrooms create a welcoming and stimulating environment for our little learners, ensuring optimal comfort and focus.
With the inclusion of air conditioners and smart boards, we embrace technology to enhance the learning experience and foster interactive engagement. We believe that a strong foundation begins at an early age, and our exceptional facilities are designed to provide a nurturing and enriching environment where children can explore, learn, and grow.
At our play school, we strive to create the perfect setting for our young leaders to develop essential skills and embark on a journey of lifelong learning.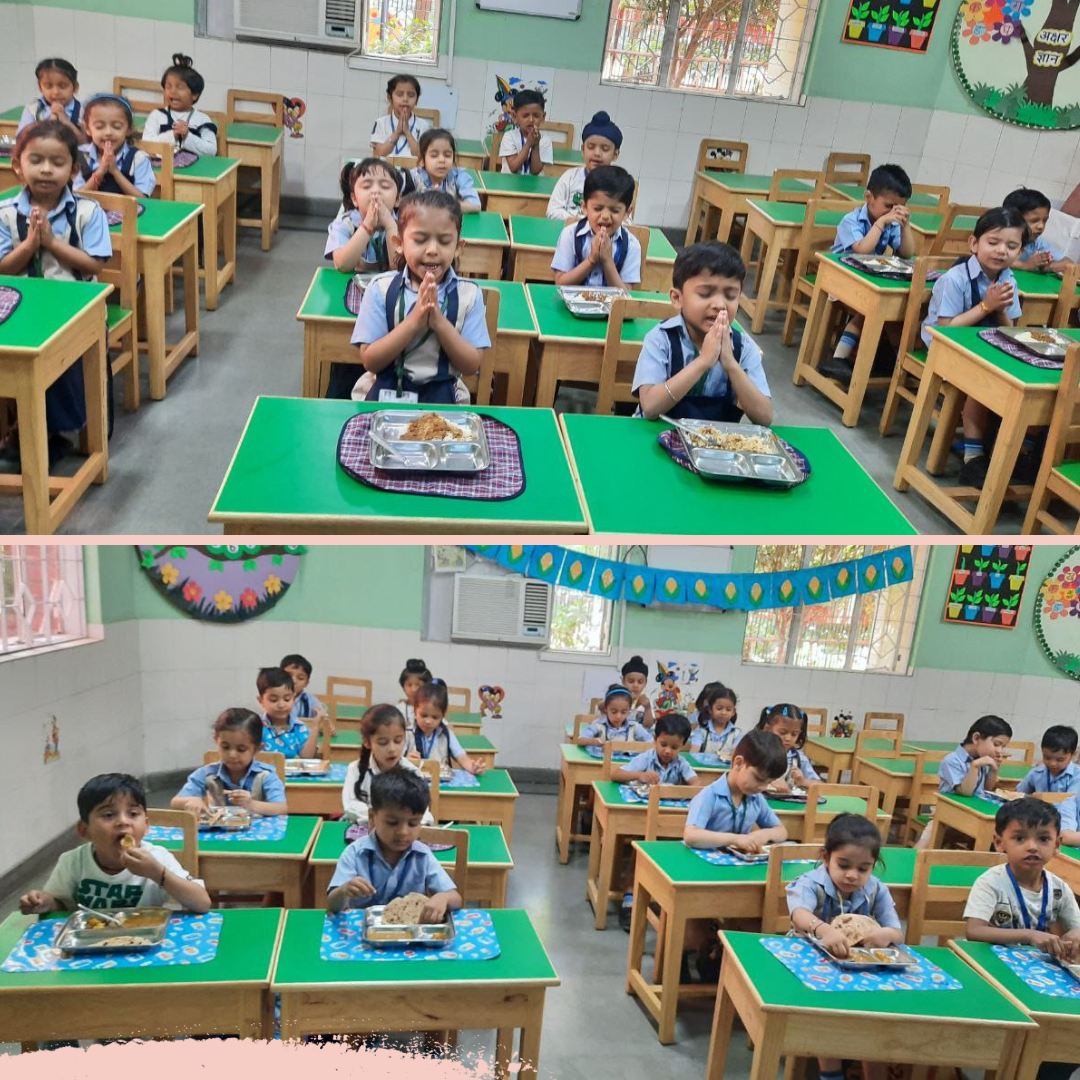 At our school, we prioritize the well-being and nourishment of our students, understanding that healthy and nutritious meals are essential for their perfect growth.
We believe that a well-fed child is a happy and thriving learner. A wide variety of meals, carefully curated to ensure holistic nutrition and hygienic standards. For our Nursery and KG classes, the mid-day meal is mandatory, guaranteeing that every child receives a wholesome and balanced lunch.
Our special menu takes into consideration the nutritional requirements of growing children, providing a delicious array of meals that children simply relish. We invite you to explore our daily menu and witness the care and attention we put into nourishing our students with the best possible meals. 
Smart Boards & AC Classrooms
At our school, we understand the importance of providing a nurturing and engaging environment for young children at every stage of their development. Our school infrastructure is designed to create a calm and responsive atmosphere that fosters optimal growth.
The spacious and vibrant building offers an interactive learning environment, allowing children to develop a strong connection with their preschool experience. With a keen focus on safety, the furniture has been carefully selected to prioritize the well-being of our students. The architecture of our campus is thoughtfully designed to attract children and encourage active participation, promoting peer learning opportunities throughout.
We place great emphasis on maintaining a safe and secure environment, ensuring proper lighting, clean and comfortable air quality, sound acoustics, and visually stimulating elements through colorful patterns on walls and floors.
Our circulation spaces, such as hallways and corridors, are designed to be easily supervised, promoting safety at all times.
We believe that the right environment plays a vital role in a child's ability to learn, communicate, trust, love, develop confidence, and cultivate a positive self-esteem. With this holistic approach in mind, we have created various development and activity centers to cater to the diverse needs of our students. 
We understand the immense value of play in a child's development. Inspired by the quote, "Play is the answer to how anything new comes about!", we have created a vibrant and engaging Play Zone where children can freely imagine, learn, and explore at their own pace.
Our colorful play area has been meticulously designed with the safety of our students in mind, ensuring that they can enjoy their playtime without any worries. The play courses in our Play Zone are thoughtfully crafted to encourage toddlers to run, jump, hide, and fully immerse themselves in the outdoors.
The swings, slides, see-saws, and other fun toys not only bring joy but also aid in the development of gross and fine motor skills in our little ones. We believe that through play, children learn valuable lessons about social interaction, problem-solving, creativity, and physical coordination.
Our Play Zone is a haven for our students, where they can engage in imaginative play, build friendships, and create lasting memories. 
We offer a dedicated day care facility that provides a warm, secure, and supportive environment for children beyond regular school hours. Our day care is open to all children of Salwan Montessori School and ensures a seamless transition from SMS Sector 5 to the day care facility at Salwan Public School, Sector 15 through our school buses.
Operating from Monday to Saturday, between 12:30 p.m. and 5:30 p.m., our day care center offers a range of engaging activities to keep children actively learning and growing. It is during these early years that children are constantly learning and developing, which is why we strive to provide joyful learning experiences throughout the day. Our day boarding program invites children to explore, learn, and have fun before reuniting with their parents in the evening.
Along with engaging activities, we also provide essential care services such as lunch and nap time. Please note that our day care center remains closed during school holidays and summer vacations. We prioritize the well-being and holistic development of every child, and our day care facility is designed to meet their needs in a nurturing and stimulating environment. 
At SMS Gurugram, we prioritize the well-being and health of our students. Our dedicated medical room serves as a hub for providing essential health services to all students, ensuring their protection and promoting their overall well-being.
Our qualified medical staff is committed to providing the best medical attention in case of injuries or emergent medical needs. Each student has an individual health record maintained within the school clinic, ensuring personalized care and attention.
We have well-established systems in place to handle any medical emergency safely and professionally. In such situations, our school vehicle is readily available to transport children to the nearest hospital for immediate medical assistance.
To further enhance health awareness among students, we organize various health awareness programs and wellness talks on a regular basis. Additionally, our full-time nurse is always present to address any health concerns and provide necessary support. At SMS Gurugram, we strive to create a healthy and safe environment for our students, ensuring that their physical and mental well-being is given the utmost importance. 
At our school, we take great pride in fostering a love for reading and providing access to a wide range of age-appropriate books. Our class lending library is a treasure trove of colorful sets of books that are carefully selected to cater to the varying interests and reading levels of our students.
Every Friday, children have the opportunity to choose a book from the lending library, ensuring a continuous rotation of fresh reading material throughout the year. The bookshelf is conveniently placed in the classrooms, encouraging children to explore and enjoy reading during their free time.
We believe that reading not only enhances language skills but also sparks imagination and curiosity in young minds. By making books easily accessible, we aim to instill a lifelong love for reading in our students and nurture their intellectual growth. 
Parents are updated about the latest events with the help of messaging services.
We understand the importance of safe and reliable transportation for our students. Our school is proud to offer transportation services with five dedicated bus routes, ensuring convenient access to our campus for students from various locations.
The safety of our students is our top priority, which is why all our buses are equipped with GPS tracking systems. This enables us to monitor the real-time location of each bus, providing peace of mind to parents and ensuring efficient transportation management.
Additionally, our buses are equipped with CCTV cameras, further enhancing the security of our students during their commute. Our trained and responsible drivers and conductors ensure a comfortable and secure journey for all students.
With our transportation services, we strive to provide a reliable and safe means of travel, allowing our students to focus on their education and enjoy their school experience to the fullest. 
Bus Stop List for Nursery and KG – Click here to download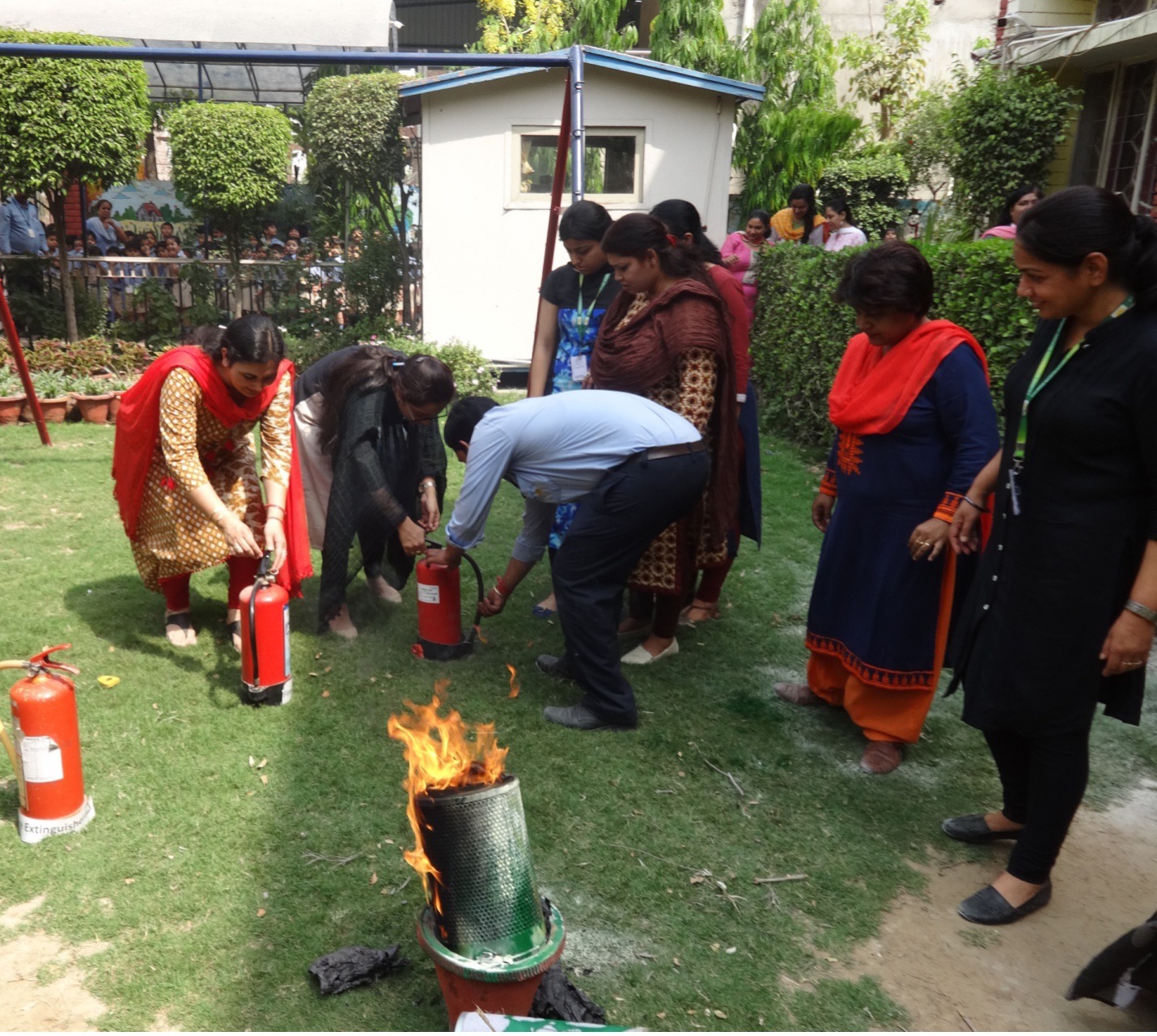 At our school, the safety and security of our students are our utmost priority. To ensure a secure environment, we have implemented various measures. A special committee, comprising parents, teachers, and administrative staff, conducts regular safety walks to meticulously assess and enhance the security of all areas within the school premises.
We understand the importance of ensuring a safe commute, which is why we have dedicated female attendants who receive and drop children on every route, ensuring their safety from the moment they step on the school bus. Our commitment to safety extends to emergency preparedness as well.
We have installed complete fire-fighting systems throughout the campus to swiftly address any potential hazards. To familiarize our students and staff with emergency procedures, we conduct quarterly evacuation drills and periodic fire drills, ensuring everyone is well-prepared and aware of the necessary actions in case of an emergency.
Additionally, to maintain constant surveillance, we have installed 25 CCTV cameras in all corridors, classrooms, and buses. This not only ensures the safety of our students but also ensures that no child is handed over to an unknown person. At our school, we strive to create a secure and protected environment, providing parents with the assurance that their children are in safe hands while they pursue their education and personal growth. 
At our school, we believe in nurturing creativity and self-expression, which is why we take great pride in our dedicated Art & Craft Room. This vibrant and inspiring space is designed to ignite the imagination of our students and provide them with a platform to explore their artistic abilities. Equipped with a wide range of art supplies, materials, and tools, our Art & Craft Room offers a diverse range of activities and projects for students to engage in.
From painting and drawing to sculpting and collage-making, our students have the opportunity to experiment with various mediums and techniques under the guidance of our skilled art instructors. The Art & Craft Room serves as a hub of artistic exploration, where students can unleash their creativity, develop their artistic skills, and gain a deeper appreciation for the world of art.
We believe that artistic expression plays a vital role in holistic development and encourage our students to embrace their artistic talents with passion and enthusiasm. Through our Art & Craft Room, we strive to foster a love for art, ignite imagination, and empower our students to become confident and expressive individuals. 
We recognize the importance of creative expression and physical activity, which is why we are proud to offer a dedicated Dance Room. This vibrant and dynamic space is designed to inspire and encourage our students to explore the art of dance. Equipped with a spacious dance floor, mirrors, and sound systems, our Dance Room provides the perfect setting for students to learn and showcase their dance skills.
Our experienced dance instructors guide students through various dance styles, including classical, contemporary, hip-hop, and more. Through dance, students not only develop coordination, flexibility, and rhythm but also gain a deeper appreciation for music and movement.
Whether it's a traditional performance or a modern routine, our Dance Room offers a supportive and encouraging environment for students to express themselves creatively and build confidence.
We believe that dance promotes physical fitness, emotional well-being, and self-expression, and we are committed to providing our students with the opportunity to discover the joy and artistry of dance in our dedicated Dance Room. 
We understand that the early years are crucial for a child's brain development, and that hands-on activities and play are essential for optimal learning. To facilitate this, we have created a Multiple Intelligence Room in our Montessori class. This integrated resource lab offers a variety of learning centers where children can engage in experiential learning and enhance their language and social skills.
Our student-centric approach allows young learners to actively participate and develop critical thinking, creativity, and observation skills. In this lab, children have the opportunity to engage in sensory learning, where they can explore and understand the world through their five senses.
Montessori Sensorial Materials are carefully curated tools and toys that stimulate the senses, enabling children to learn and grasp concepts more effectively. We believe that by providing a hands-on and sensorial learning experience, we are nurturing the holistic development of our students and fostering a lifelong love for learning. 
Learning spaces in Salwan Montessori School serve as the foundation for a child's educational journey. These spaces are carefully designed to foster holistic development, encourage curiosity, and provide a safe and stimulating environment for young learners. Young children are naturally curious and love to explore. Learning spaces offer opportunities for hands-on exploration, imaginative play, and sensory experiences to nurture a child's innate curiosity. We have divided the spaces into different zones, each dedicated to specific activities such as reading corners, art stations, play areas, and quiet spaces. Clear visual cues help children understand the purpose of each zone. Speaking walls and use of Bright, cheerful colors create an inviting atmosphere, while soft textures and ergonomic furniture enhances comfort. Access to outdoor spaces or nature-themed elements also promote a connection with the natural world. We believe at SMS, investing in well-designed learning spaces is an investment in the future of our youngest learners.
Physical activities are essential for the healthy growth and development of young children. Salwan Montessori School plays a crucial role in promoting an active lifestyle and instilling lifelong habits of physical fitness. A dedicated Physical Activity Zone within the school environment is provided with a structured and enjoyable space for children to engage in various physical activities like, Taekwondo, Fun races, Team-Building activities, fostering their physical, social, and emotional development. The zone also provides a range of age-appropriate activities that include climbing structures, swings, slides, balance beams, and open play areas for running and ball games. An engaging Physical Activity Zone in SMS is an investment in the physical, social, and emotional well-being of young learners. By prioritizing safety, variety, inclusivity, and maintenance, school creates an environment where children are not only physically active but also developing important life skills.